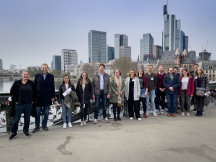 "Intentional Forgetting in Organizations" as a DFG priority program
Overall project
Forgetting is often negatively rated and involves fears of losing important information. However, the current changes in the world of work mean that users and information systems must deal with ever-increasing volumes of data and information. Intentional, controlled forgetting becomes the functional counterpart of data collection and learning.

In 2015, the German Research Foundation (Deutsche Forschungsgemeinschaft; DFG) set up 18 priority programs (PPs). One of these is entitled "Intentional Forgetting in Organizations – Mechanisms of forgetting as ways for organizations to adapt to an environment in which the amount of information is constantly growing" (PP 1921). The program is led by Prof. Dr. Annette Kluge and Prof. Dr.-Ing. Norbert Gronau (University of Potsdam) as coordinators.

The aims of the planned PP are:

• To utilize the mechanisms of human forgetting for a technical and organizational context.
• To further develop currently existing organizational theories with respect to the question of how the processes, employees, technologies and structures of the organization can be matched with the amount of information generated within and outside of the organization by enabling the information systems in organizations to forget.
• To develop, in an interdisciplinary manner, new methods and transmission paths for organizations in order to find a balance between continually growing amounts of stored information and a reduction of information through forgetting.

The first phase of the approved priority program launched in Autumn 2016 with 9 projects. The research questions and individual projects of PP 1921 are designed in an interdisciplinary manner and are investigated in so-called tandem projects. Between the projects a content exchange takes place in regular workshops and conferences. A coordination office has been set up for this purpose.